SUA Photogrammetry
Do you want to know how to plan and process your SUA (Small Unmanned Aircraft)/drone imagery to obtain quality survey output and a professional edge for your business and clients?
This two-day course is packed with advice on how to maximise the impact of data collected by your SUA. It will cover flight planning for optimum coverage and processing hints to ensure accurate data delivery. Led by a highly experienced tutor, students will explore the art of the possible using theory, workflows and case studies.
This course is lecture room based but with a maximum of twelve students to maintain a level of intimacy and interaction. It involves a mixture of presentations and software demonstrations.
Delegates who are interested in a broader scope to include terrestrial imagery and require hands-on experience of using cameras and photogrammetry software should attend the three-day Photogrammetry and Digital Imaging Course.
Course Summary
The use of SUA (Small Unmanned Aircraft) to collect data has rapidly increased in the last few years. Not only surveyors but engineers, archaeologists, environmentalists, conservationists and numerous other disciplines are exploiting the advantage of data collected by a small, agile, airborne platform.
Using SUAs for the aerial survey of smaller sites is a fraction of the cost of conventional aircraft and the newer software algorithms are perfect for the analysis of the many smaller and more randomly distributed images taken on an SUA project.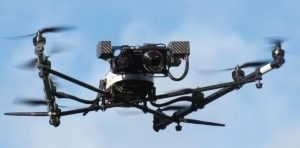 An example of a mid-range SUA carrying a video and a still camera.

A 3D city model and the distribution of the SUA aerial images – Agisoft Metashape software.
The course, which is new to the TSA Survey School in 2019, covers:
Digital imaging – The quality of the raw data is fundamental to a successful project.  This section will focus on the requirements for producing the highest quality imagery and will include discussion on camera settings, lenses, field of view, resolution, distortion, ground sampling distance (GSD), coverage/overlap and photo-control.
Photogrammetry theory and practice – A brief background to place today's advances in context and a little theory to explain how the process works are the subjects of this session. It will include an explanation of the perspective effect of a camera's central projection and how 3D data is produced from an orientated and overlapping series of 2D images both for stereo mapping and the modern multi-image software products.
Workflow and outputs – With the emphasis on flight planning, field checking and quality control at each stage of the process the survey outputs available to the SUA user will be explained. These include photogrammetric point clouds, triangular surface meshes, textured 3D models, raster digital elevation models for GIS, orthophotography and 3D vector data collection.
Software demonstration and case studies – Active demonstration of parts of the workflow using one or more software suites will help to crystallise the information learnt from the previous sessions. It will include a discussion of the settings available to improve the output, observation of control points for geo-referencing and a brief look at vector data collection in 3D. Case studies will be shown, some of which may stray outside of the SUA realm to demonstrate the flexibility of photogrammetry in supplementing the airborne data using terrestrial imagery.
The course extends over two days and includes four sessions of 2.5 hours each.
Book your place now by emailing us at office@surveyschool.org.uk or ringing on 01905 26329.
Download the course overview: SUA Photogrammetry Two Day Course
Terms and conditions: TSA Short course Terms and Conditions